| | |
| --- | --- |
| | about keiun |
A new item "Alto Thinn" will be available on February, 2008!

A new product will be added to "KEIUN" Series which has been so popular among many professional beauticians in both Japan and several foreign countries. The Cirrus, like previous "KEIUN" Series, is made of Damascus steel, and its price is set as quite reasonable.

Its price, specification and retail availability date could be altered without notice.

To satisfy professional haircut technique

Those who are playing key roles in the ever-changing fashion industry are, what is called, "Charismatic Beauticians" and are creating stylish hairstyle one right after the other. With supporting their technique, haircut scissors have also evolved altogether.

Blades of haircut scissors are normally opened and closed more than tens of thousands of times with a full sense of speed, and therefore, seem to become parts of beauticians' hands. Since beauticians' expectation toward haircut scissors tends to be extremely high due to their pursuit of sensitive sense of open & close and superb sharpness, scissors are handmade one by one by skilled craftmen. Haircut scissors which are sharpened in the same way of traditional Japanese sword and are made with using special forging technique of Sanjyo city have received an enthusiastic response from both home and abroad. Therefore, It is not too much to say that "KEIUN" was created by "Professional" craftmen who try to meet strong needs of "Professional" beauticians who try to express ultimate beauty.
Damascus steel

It is said that Damascus steel was made by ancient Indian steelmaking for the first time, and many swords made of Damascus steel were taken into European countries as war bounty at the time of expedition of Christian Crusade and enjoyed considerable popularity as mysteries of the Orient. Damascus steel can be categorized into two groups. While multiple layers are separetely seen on the surface of black steel in Europe and America, Japanese Damascus steel makes you see overlaped layers which seem to be cloudy on its mirror surface.

Unlike gorgeously-decorated products, our scissors made of Japanese Damascus steel with natural and mysterious pattern gives us impression of Japanese beauty. Each scissors has its own "face" and its natural flow from the edge of blade to the edge of handgrip depicts auspicious omens motif, namely Japanese "KEIUN" .

Beauty and Sharpness of Japanese Sword

Speaking of Japanese blade, you never fail to remember "Sword". The blade of sword itself graphically tells you its beauty. The blade of sword can be regarded as its face , and you will see different character on each sword. You may develop an illusion that you are drawn into the sword when you see it with holding to the light. This is exactly an art expressed by soul of smithery craftsmen. There are a number of anecdotes about the sharpness of Japanese sword through a long history in Japan.

Way too sharp and way too beautiful...... that's a Japanese sword. What is "KEIUN", by the way? KEIUN is haircut scissors with both ultimate beauty and sharpness of such Japanese sword, which is supervised by Mr. Shigeyoshi Iwasaki, a representative smithery craftsman of Sanjyo smithery.

Supervision by Mr. Shigeyoshi Iwasaki, a prestigious smithery craftsman of Japanese sword

Mr. Shigeyoshi Iwasaki is a highly-reputed smithery craftsman of Japanese sword. He did significant research on materials of Japanese sword, "Tama-Hagane", and spent his entire life making superb blades, using both scientific research and practice. He is also famous for his various siginificant activities such as research on blades in Sho-so-in, an important historic buildings of Nara days, and technical support toward developing countries as a smithery craftsman. In 1998, he was invited to The 50th memorial Munich International Trade Fairs and demonstrated Japanese traditional forging technique. Then he received several prestigious awards. In reality and in name, he is representative smithery craftsman in the world.

Click HERE >> The world of heavy Iwasaki(Japan)


Challenge to the world

Japanese sword has been highly popular worldwide for its splendid sharpness; however, there are few opportunities of feeling it at the manufacturing floor of local industry. Inasmuch as we are not manufacturers with our own strong brands, we are trying to sell haircut scissors made out of experienced craftsmanship to the world from this pure manufacturing floor with our own hands. We would like to take this opportunity of challenging to the world with our proud "KEIUN".

I comb it, and it is informed of the patent technology acquisition of scissors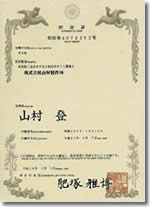 Our mountain village mill Co., Ltd. combed it on February 1, 2008 and acquired a patent of the tip (I comb it, and I comb it, and I comb it, and .3 combs .4 .2 so-called 1, equal) of the comb blade of scissors.[Patent No. the 4,073,352nd]
I will become our act that it violates a law of Japan I comb it and produce scissors, and to sell to fall under as above without leave in future.